"The important thing is not to stop questioning. Curiosity has its own reason for existence. One cannot help but be in awe when he contemplates the mysteries of eternity, of life, of the marvelous structure of reality. It is enough if one tries merely to comprehend a little of this mystery each day." – Albert Einstein
When we are stuck with a problem, we sometimes end up constantly thinking about it and not working on figuring out how to solve it. Sometimes this makes us think that we will never solve it and then we start to BECOME our problem. But it doesn't have to be that way. With coaching, you use your brain to figure out a way through, a way forward. When you can't even see where you are stuck (because you believe all the thoughts you have are true) you get stuck in judgement instead of curiosity. You don't know what's possible when you don't get curious, but how do you begin to do this when those old thoughts are so strong?
That's where my Curiosity Coaching comes in. Using learned, practiced and powerful evidence-based skills from my training as a Certified Positive Psychology Coach, I will show you how to turn the kaleidoscope of your brain to start to see things differently. It only takes a small nudge for your whole perspective to change! I will help you to see your brain's thought patterns and overpower them so you can make positive changes in your life, no matter what the circumstances. I will give you the tools you need to make lasting change, even after the sessions have ended! My dream would be that they would never end – coaching is something I will be investing in for the rest of my life, it has been completely life-changing for me! Having a curious mindset can help you to:
problem solve
become more self-aware
be less judgemental
overcome fears
gain knowledge
be happier
achieve your goals
strengthen relationships
develop empathy for self and others
We can talk about things like overwhelm, goal setting, happiness habits, self-care practices, navigating transitions or anything else you want to work on to create positive change in your life using a playful mindset as a driver. Each session is designed to be 45 minutes long so you can use the final 15 mins left of the hour to take notes, make plans based on what we discussed and just decompress – playing with your brain can feel like hard work sometimes! It is a gift to you to carve out a whole hour devoted solely to your transformation.
There will be some things for you to work on in-between sessions – things like noticing your thoughts and feelings, maybe some journaling or I will share a practice for you to engage in that will help. You can also email me in-between sessions with any questions you have or wins you want to share (yes, I will teach you how to celebrate your wins too!). If you ever need to reschedule, no problem! I get it, life happens. It happens to me too! We will email each other to find a suitable alternative time – no need to worry or feel any shame about missed sessions.
Here are some reviews from previous people who have undertaken coaching with me: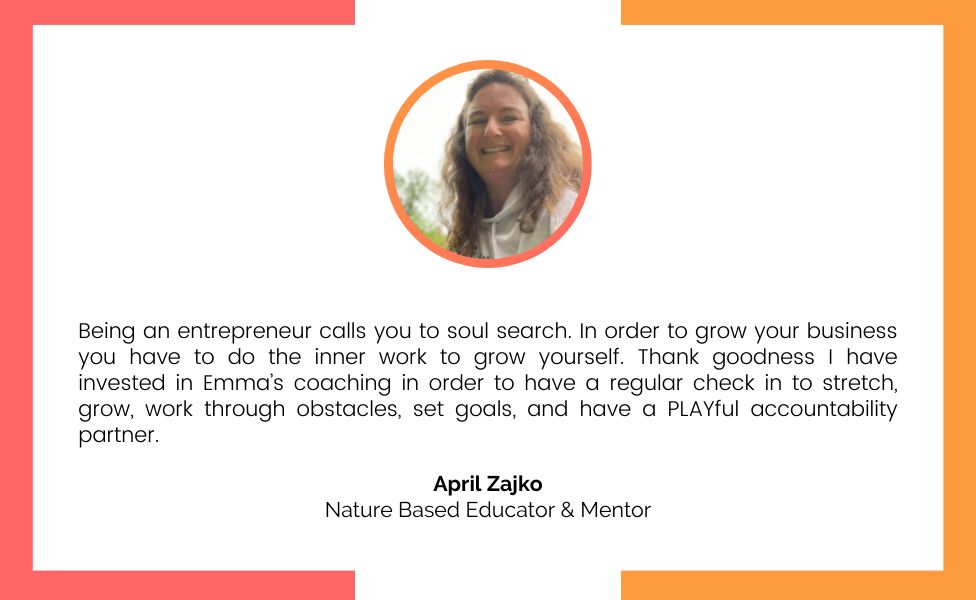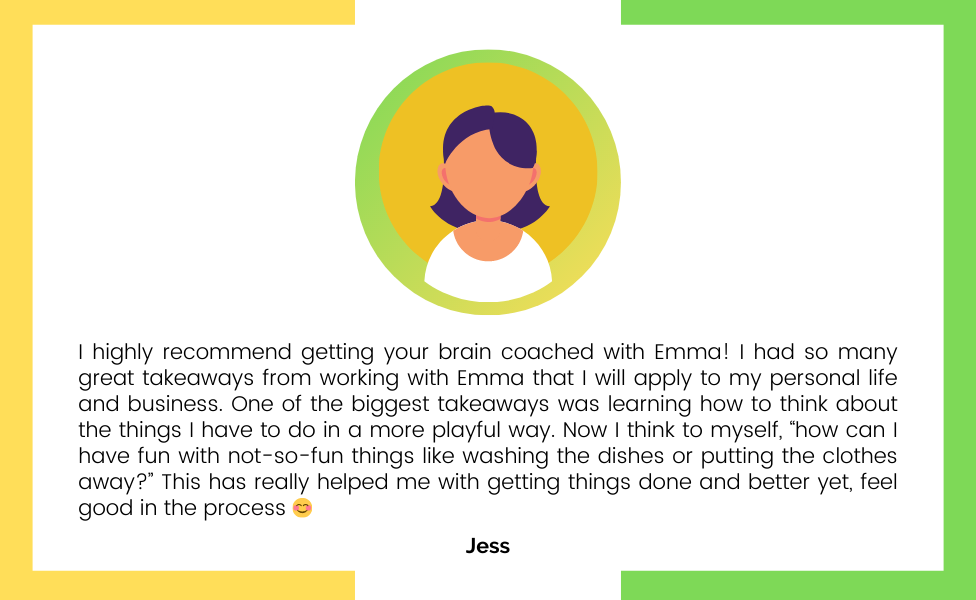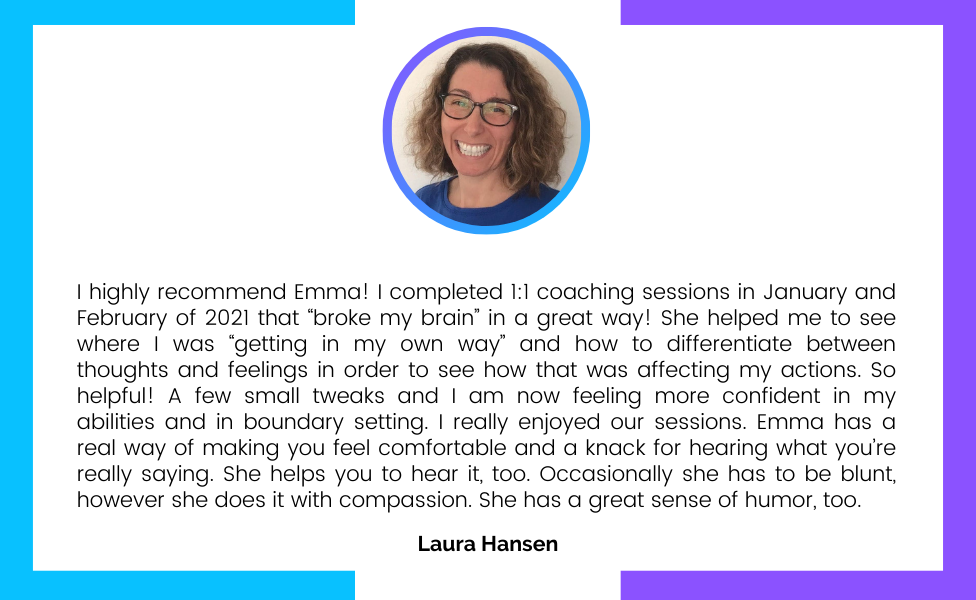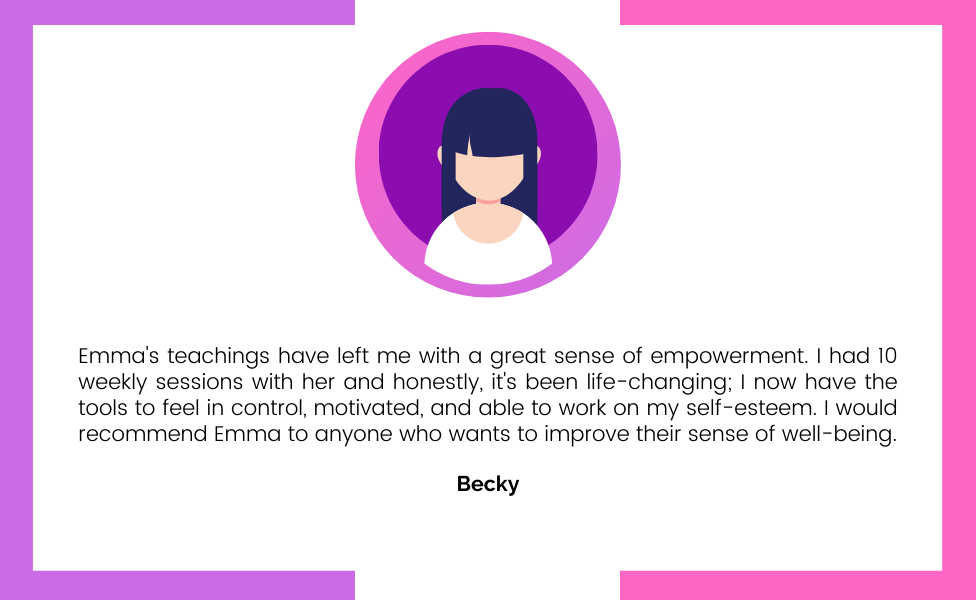 Part of you may be thinking, "I'm not sure if this is for me…". Maybe you have signed up to something similar before and you didn't enjoy it, maybe you have some online courses that you need to complete and want to focus on those first, maybe you think it's selfish to spend money on yourself or that you think you should be able to do this on your own. Well, I'm here to tell you that these are all totally normal worries! Your brain will have worries and objections about *everything* – the question to ask yourself is, "What if this goes well?" What would you get to think and feel if coaching with me unlocked something for you that you desire right now? Our brains aren't designed to look for the good – they are wired to seek out DANGER and find the negatives. Rewiring them to look for the good and CREATE good on purpose starts with you getting curious about what could be possible if you could learn to think differently using the power of play at your side. I invite you to contact me and literally say, "I'm not sure if this is for me…" and I can coach you on THAT for starters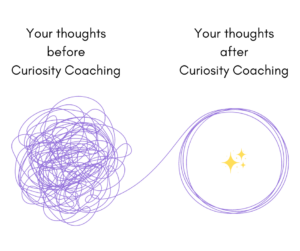 Curiosity Coaching is available in sessions of 45 minutes via Zoom. We get stuck into what is going on in your brain and use playful coaching to help you take action so you don't stay stuck. We start off with a batch of six sessions, meeting once a week. If after six sessions you would like to continue, you can simply add on another batch of six or extend to twelve as and when you wish (please note that a lot of my clients end up doing this because they get so much value – you have been warned, haha!). This format helps you to dip your toe into coaching without making a long commitment. Rather ironically, it also can help you make a longer commitment by allowing you to re-up your package without spending a big chunk of money all at once. Curiosity Coaching also comes with partial payment options to make things easier for you! After your initial batch of six, you can choose to continue playing at a pace of once a week, or you can move to every other week. It's up to you!
After we have had a Tea & Talk to see if we are a good fit for each other, you can either set a date to start coaching or if you need some time to think it over, I will send you an email one week after our meet if I haven't already heard back from you before those seven days have passed. If you need coaching about how to make the decision, I will absolutely help you to make the decision that is right FOR YOU. The Tea & Talk is a playful opportunity for us to get to know each other – no pressure whatsoever!
Know a burned-out colleague, friend or family member who needs a boost? You can gift this package to them! Just send me an email. You can also buy my course, Become Your Own VIP, to get a taster of what my teaching is like before diving into coaching.
Please email emma@makeyourownrainbows.com or send me a message via my social media if you have any questions. If not, go ahead and book via my calendar below! Thank you