Does this sound like you?
You believe in the magic and power of play when it comes to children…but you don't always feel empowered to let loose and be childlike.
You feel like you give-give-give to others all day…and yet you never seem to give to yourself. 
Others say you are an amazing, thoughtful, kind person…but you still don't feel like you're ever enough.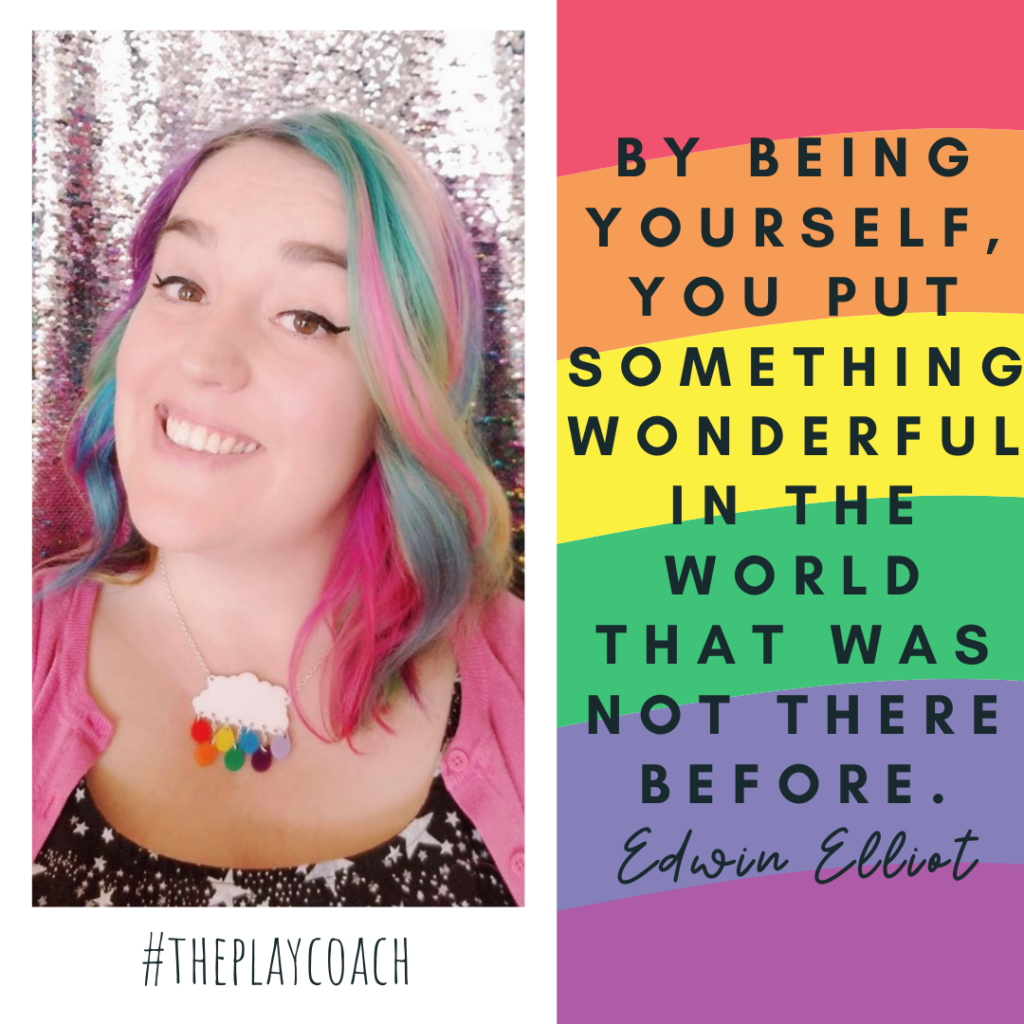 Hi! I'm Emma Tempest AKA The Play Coach. I help stressed out humans bring the power of play to their busy lives through trainings, consultancy and coaching. I offer life coaching to all human beings – adults, teens, tweens…you name it! I also offer professional development about early childhood education (where the expert players are!) and add-on coaching that helps educators take the work deeper. I also offer self-care and wellbeing training and coaching – creating plans of action for teams of humans in the workplace, as well as 1:1 coaching for individuals via work. I offer a safe space to help anyone talk about what matters to them, what struggles they are having and how they can begin to take back their power through playful, positive change.
I like to see myself as being the person with the umbrella. I can help you weather those stormy thoughts you have – whether they are in or out of the classroom – and I am here for you to help you find a new way. I can also offer the umbrella to you and let you lead the way to the sunshine – you can even keep the umbrella and take all the learning with you beyond the time we spend together! They say 'You can't have a rainbow without a little rain', which is true! But my work isn't here to make sure storms never happen. It's a fact of life that there will be storms – overwhelm, lack of a work-life balance or even just the heavy weight of stuff going on in our personal lives. My job is to help you fully embrace both the storm and the sunshine – and to help you make your own rainbows, so you can live a playFULL life.
Here's how I can help you 💜
There are three ways I can help you – firstly, I share free content on my social media posts (Instagram & Facebook) and I've been on a bunch of free Podcasts too. I also host a free Facebook group. Come join us and make some new play pals!
Secondly, in my role as a Certified Positive Psychology Coach, I can help you with your own wellbeing so you can act as your favourite self more often. I like to say that I don't give you the answers – I actually give you more questions! Because my job is to help you think differently. I help you see your thoughts and what lies beneath them. I ask questions that create more thoughts and wonderings. Then together, using a combination of Positive Psychology and Thought Work, we reframe these thoughts so you not only get unstuck but you figure out what to do next – real action that empowers you to move forward. You can read more about that right here!
Thirdly I offer training, coaching and w̶o̶r̶k̶PLAYshops designed to meet your needs. I have a Bachelor's degree in Early Childhood Education and am a Certified Wunder-Led Approach Educator and Guide with Fairydust Teaching. Visit the Work With Me page for more information about my early childhood consultancy services, training and/or coaching for your workplace team (about early childhood or wellbeing!).
NICE THINGS PEOPLE HAVE SAID
I am not a medical professional. As a wellbeing coach, I am not providing healthcare, medical, or nutritional therapy services or attempting to diagnose, treat, prevent, or cure any physical, mental, or emotional issue.
The information provided here is for informational purposes only and is not intended to substitute professional medical advice, diagnoses, or treatment. Always seek advice from your physician or other qualified healthcare providers before undertaking a new health regimen.