Description
When we are stuck with a problem, we sometimes end up constantly thinking about it and not working on figuring out how to solve it. Sometimes this makes us think that we will never solve it and then we start to BECOME our problem. But it doesn't have to be that way. With coaching, you use your brain to figure out a way through, a way forward. When you can't even see where you are stuck (because you believe all the thoughts you have are true) you get stuck in judgement instead of curiosity. You don't know what's possible when you don't get curious, but how do you begin to do this when those old thoughts are so strong?
That's where my Curiosity Coaching comes in. Using learned, practiced and powerful evidence-based skills, I am offering packages of six 1:1 45-minute coaching engagements to be used once per week. This means we will be working together for 6 weeks, all sessions to be used within 10 weeks (sometimes things happen and we can't make our sessions – this is totally fine, life is like that! No punitive measures are taken, we just make up your sessions at a time that works for both of us.)
I will show you how to see your brain's thought patterns and overpower them so you can make positive changes in your life, no matter what the circumstances. I will give you the tools you need to make lasting change!
Having a curious mindset can help you to:
✨problem solve
✨become more self-aware
✨be less judgemental
✨overcome fears
✨gain knowledge
✨be happier
✨achieve your goals
✨strengthen relationships
✨develop empathy for self and others
We can talk about things like overwhelm, goal setting, happiness habits, self-care practices, navigating transitions or anything else you want to work on to create positive change in your life using a playful mindset as a driver. Sessions will be 45-minutes long held over Zoom. I highly recommend using the next 15 mins left of the hour to take notes, make plans based on what we discussed and just decompress – playing with your brain can feel like hard work sometimes! It is also a gift to you to carve out a whole hour devoted solely to your transformation. There will be some things for you to work on in-between sessions – things like noticing your thoughts and feelings, maybe some journaling or I will share a practice for you to engage in that will help. You can also message me in-between sessions with any questions you have or wins you want to share.
Here are some reviews from previous people who have been coached by me before: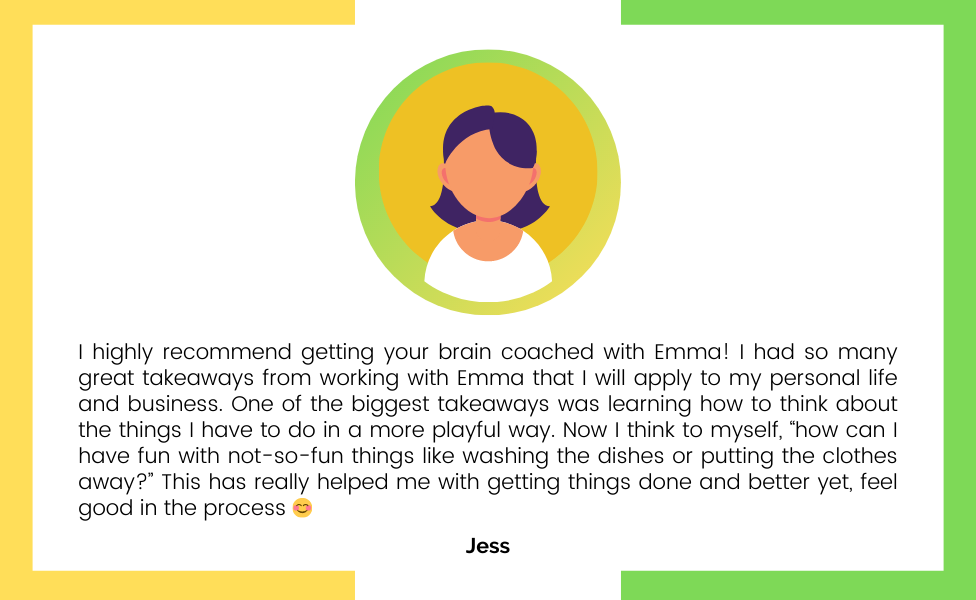 Payment plans are available – just send me an email and I'll send you a link.
If you would like just a one-off session to dip your toe into the amazing world of coaching, try out one of my Tiny But Mighty sessions! You can also buy my course, Become Your Own VIP to get a taster of what my teaching is like 🥰️
Know a burned out colleague, friend or family member who needs a boost? You can gift this package to them! Just add their name and email in the 'notes' section on the order form.
Please do not hesitate to message me or email emma@makeyourownrainbows.com if you have any questions. Thank you 🙂