Description
Please fill out this form to be added to the waitlist for when the next round of PWYB: Happiness launches. Please note this does not seal a place in the program, it does however give you early access before everyone else. If you would like to 'seal the deal' however, please send an email to emma@makeyourownrainbows.com and you can make a deposit now to guarantee your place.
Here is an overview of the program:
As someone who is definitely feeling the effects of the ongoing pandemic on my mental health, I know I want to be focusing on moving forward in 2022 and creating more habits in my life that produce long-lasting effects. The science of happiness tells us that when humans are flourishing they are more likely to feel joy, love, and happiness more often. Other feelings aren't eliminated, of course, we all need to feel sad, calm, and upset at times. As a certified positive psychology coach, I can help you figure out how to make the science of happiness work for YOU in your unique situation.
If you are struggling with:
* anxiety
* stress
* low mood
* low self-worth
* lack of confidence
* feeling overwhelmed and out of balance
In this group coaching program you will:
* better manage anxiety
* reduce stress and learn how to work with it
* feel more confident and in control of what you want
* find playful ways to balance everything on your plate
* increase your ability to access more positive emotions
* tackle perfectionism and improve your understanding of your self-worth
This small-group program consists of just six people, meeting together over four sessions, one hour per week via Zoom. The time of these sessions is decided by the group and a replay is available if you miss a session. Everything I teach you can be used long after the course has finished – lifelong learning is a value of mine! There will also be a private Facebook group where you can chat with each other about the program, ask questions, and share your wins and struggles. You also get lifetime access to the recordings and worksheets.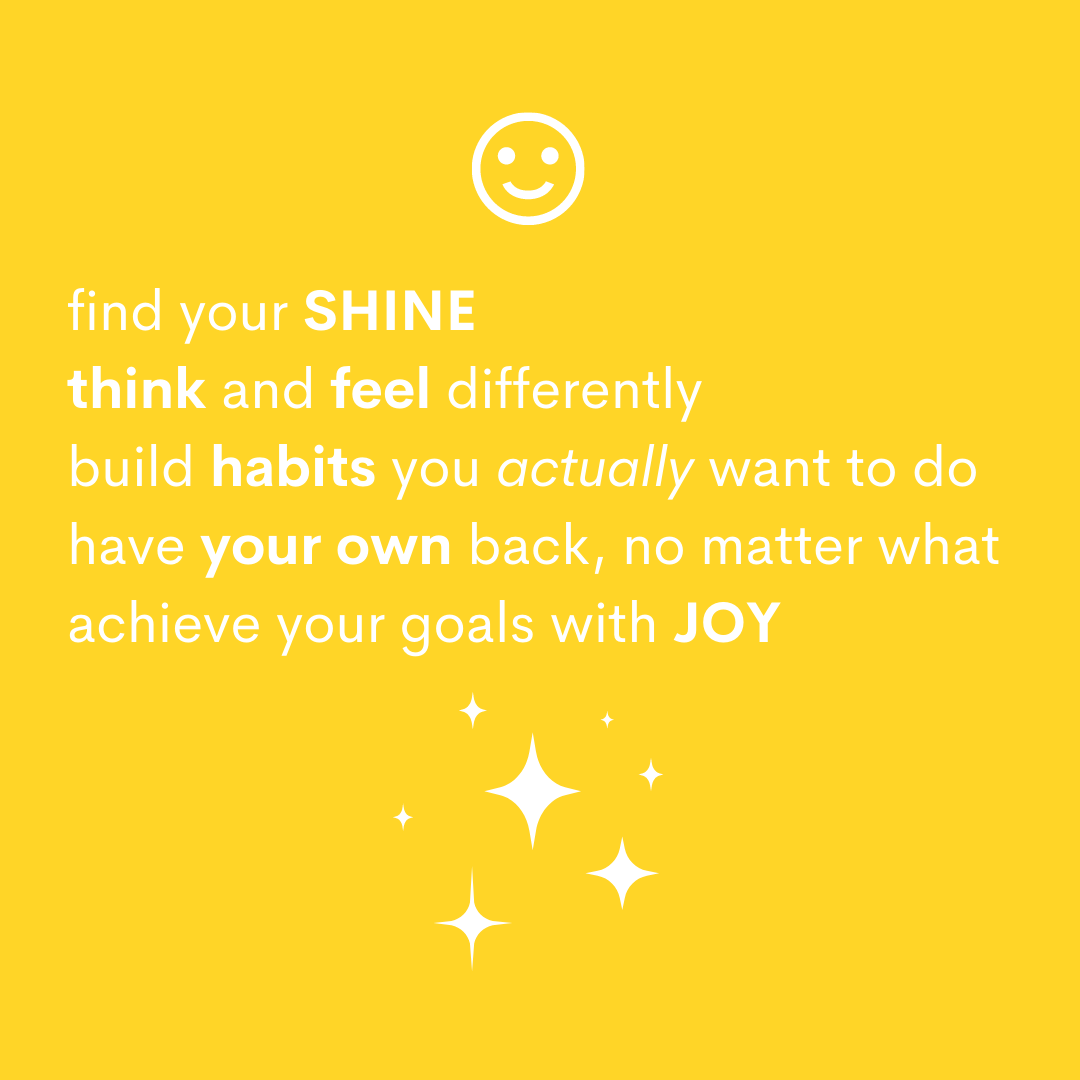 WEEK ONE: Meet 'n' Greet & SHINE
This week you will get the opportunity to share where you currently are in your wellbeing journey and where you would like to be at the end of our time together. I will introduce you to my SHINE check in program that we will use in-between every session to help you clearly see where you are and what next steps you can take that you want to focus on for your wellbeing goal.
WEEK TWO: Thinking & Feeling
This week we will look at how your mind offers you on average 60,000 thoughts per day and what we can do with them in order to improve our wellbeing. Our thoughts create our feelings so it's important to understand the connection between them. You will also receive a tool to help you check in with your emotions to get more clarity and reduce confusion when you are languishing.
WEEK THREE: Habit Skill Building & When You Fall Off the Wagon
Now that we know what you are thinking, feeling and you have the tools of SHINE to check in on yourself, we can start to take more actions that align with our values and that you will actually follow through on! Accountability is a huge part of this program for a reason – humans are wired for connection, so you're more likely to achieve alongside another person.
WEEK FOUR: How to Have Your Own Back & Looking Forward
You now have some strategies to understand your thoughts and feelings and how your habits can lead to improved wellbeing – but what can you do if your brain just keeps giving you more things to think about and your life keeps creating more overwhelming events? What happens when your wellbeing just isn't at the top of your list? This is where we figure out the science of happiness – what actions can you take that are proven to help – even when you are struggling!
But wait! That's not all!
BONUS: If you complete this course, you get 10% off any 1:1 coaching package starting in February 2022. We can talk about what you have learned in the course, any questions you have, or you can bring something totally new to the table! Whatever your topic is, I can coach you on to help give you some clarity and continue to take action in a way that feels good!
Whether you are languishing at work or at home, this course is for you! If you are currently thinking, "I'm too busy to take this course right now" or " I've tried setting goals before, it doesn't work!" – that is a sign that you SHOULD take it, it's the perfect time to get to grips with what is happening to make you feel not-quite-your-favourite-self and come away with skills to tackle it from day one.
Know a burned-out friend or family member who needs to play with their brain to manage their wellbeing? You can gift this program to them! Just add their name in the 'notes' section on the order form and I will get in touch to share their contact info.
This round of the course is available to buy until 11:59pm EST Wednesday 5th January 2022 or when six participants have signed up. There will be an opportunity to sign up to a waitlist if this time around doesn't work for you. We start on Monday 10th January 2022!
Please email emma@makeyourownrainbows.com if you have any questions. Thank you 🙂