Gifts of Imperfection book club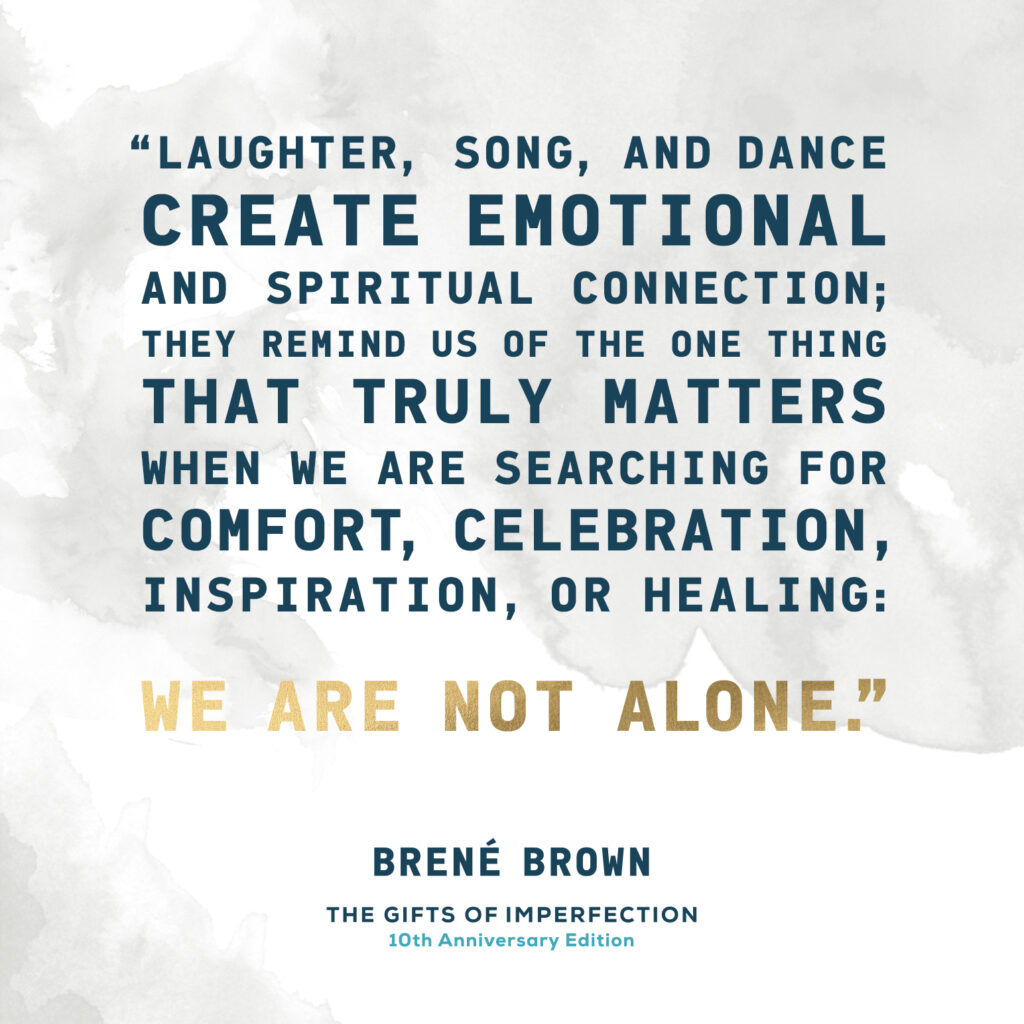 Here is the schedule:
Thursday 30th June – Thursday 7th July Pages 1-30
Introduction: Wholehearted Living
Courage, Compassion, and Connection: The Gifts of Imperfection
Exploring the Power of Love, Belonging, and Being Enough
Friday 8th July – Thursday 14th July Pages 31-54
The Things That Get in the Way
Guidepost #1: Cultivating Authenticity – Letting Go of What People Think
Friday 15th July – Thursday 21st July Pages 55-76
Guidepost #2: Cultivating Self-Compassion – Letting Go of Perfectionism
Guidepost #3: Cultivating a Resilient Spirit – Letting Go of Numbing and Powerlessness
Friday 22nd July – Thursday 28th July Pages 77-92
Guidepost #4: Cultivating Gratitude and Joy – Letting Go of Scarcity and Fear of the Dark
Guidepost #5: Cultivating Intuition and Trusting Faith – Letting Go of the Need for Certainty
Friday 29th July – Thursday 4th August Pages 93-110
Guidepost #6: Cultivating Creativity – Letting Go of Comparison
Guidepost #7: Cultivating Play and Rest – Letting Go of Exhaustion as a Status Symbol and Productivity as Self-Worth
Guidepost #8: Cultivating Calm and Stillness – Letting Go of Anxiety as a Lifestyle
Friday 5th August – Thursday 11th August Pages 111-130
Guidepost #9: Cultivating Meaningful Work – Letting Go of Self Doubt and "Supposed To"
Guidepost #10: Cultivating Laughter, Song, and Dance – Letting Go of Being Cool and "Always in Control"
Ch: Final Thoughts
Ch: About the Research Process: For Thrill-Seekers and Methodology Junkies
The Zoom room will be open for 1hr every week so you can chat with fellow readers about the section of the book we will be focusing on for that week. You can have your camera on or off, participate or only listen in – everybody is welcome! There will also be a dedicated post each week in a pop-up Facebook group for those who can't make it to the Zoom but who still want to participate (Zoom participants are also encouraged to reflect in the FB group!)
Want to put what you read into action each week? Do you appreciate having accountability and supporting others to help them do what they say they will? I am going to run a special group coaching offer alongside the book club sessions. For just $20/week, you can join a group of up to five people to get coached by me once a week on Tuesdays 7-8pm for the 6 weeks that the book club will run for. You will be able to apply the learning from the book club meet on Thursday to your life with expert help from me on Tuesday! You will be supported within a small group, cheering everybody on and cultivating relationships amongst each other. The group coaching will happen on Zoom and you will also get an invite to a Slack channel to discuss more, celebrate your wins and share your struggles.
If you want in on the Book Club, send me a message with the words BOOK CLUB.
️ If you want in on the Group Coaching, send me a message with the words GROUP COACHING.
If you want in on BOTH, send me a message with I WANT IT ALL GIMME IT NOWWW!
You can email me or send me a DM on my socials – Facebook or Insta.